Vol. 11, Issue 4, May 2011


Welcome to Dialogue!


NYS TESOL's Adult Education SIG Salon, January 10, 2011
Featured Articles
Dialogue News & Announcements
SIG Salons Sprouting Upstate and Downstate
Salons have been springing up and giving members a fun, new way to keep growing and prospering in the field. Salons are small gatherings held in members' homes to share and learn about new teaching practices. Adult Education SIG salons were held in Albany on March 11 and April 10 and in New York City on January 10.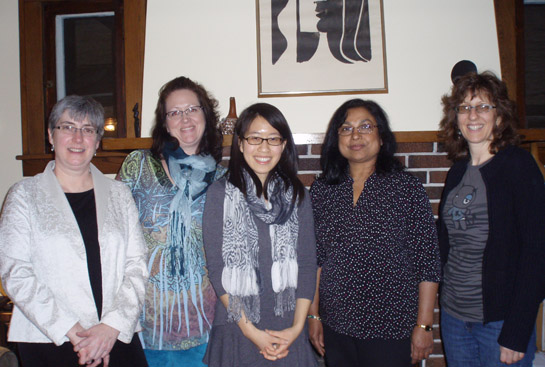 Liz Allen, Anna Kemp, Jeanne Lee, Roma Kumar, Donna Anderson
Read what members have to say about the salons they attended. Check the Adult Education SIG page at http://nystesol.org/sig/AdultEducation/ for more information and updates.
"As a retiree who was, for many years, an ESOL specialist with the NYS Education Department, a visiting professor in the graduate TESOL program at UAlbany, and probably one of the earliest members of NYSTESOL (in the good old days of presidents Faneslo, Larson, Nadler, Perez and Frankfort) it was an absolute joy to be back talking shop with fellow members of NYSTESOL. I was also delighted to see the success of some of my former UAlbany students - especially the Salon hostess. Best of all, I picked up quite a few good ideas that I will use in my volunteer ESOL teaching for the track workers at the Saratoga Racetrack. Thanks for a great evening, and for keeping the spirit of NYS TESOL alive."
- Laurie Wellman

"As a new NYS TESOL member, I was excited to meet other professionals in my field. And as a person who has recently chosen TESOL for a midlife career change, I was thrilled to meet other women who had done the same! Getting to know each other through the demonstrations, resource sharing, and personal stories made for a wonderful evening. I left Salon Night feeling inspired and eager to incorporate the new activities I learned about into my lesson plans."
- Donna Anderson

"The Albany Salon was a historical event as the first one outside of Manhattan. Applause to everyone there for their open and joyful spirits, from sitting on the floor and playing 'Scrabble' to writing thank-you notes as ELLs, and all that came between!"
-Tamara Kirson

"A more informal interactive time to share, and ask for advice than the usual PD opportunities. Let's do it again!"
- Heather O'Leary

"It was informative, up-to-date, very well organized, and useful."
- Anne Heupel
---
Elementary and Secondary SIGs Team Up for Spring Event
From Lan Ngo
Elementary SIG Chair
Collaboration with other educators is often an essential element in creating comprehensive lesson plans; nevertheless, due to time constraints and other contextual limitations, it is often difficult to engage in such collaborative dialogues. On Saturday April 2, 2011, participants gathered in the Teachers College Library for a workshop entitled, "Enhancing Lessons to Support English Language Learners," which was co-sponsored by the NYS TESOL Elementary and Secondary Education Special Interest Groups. Dr. Jennifer Scully presented a foundation of concepts and strategies for educators to consider when working with ELLs, as well as suggestions for practical application in the classroom. Participants were invited to bring original lesson plans to share, discuss and expand during the collaborative session. The Elementary and Secondary Special Interest Groups hope to continue "lesson swap" events in the near future, providing a space in which educators can communicate and collaborate to support the needs of ELLs in the classroom.
---
The Teaching English Abroad SIG is now called – Teaching English Internationally. Along with a new name is a new event "The Readjustments and Reverse Culture Shock Period for Returning EFL Teachers: A Salon" on August 24, 2011 from 6:00 to 8:00pm in Buffalo, NY.

To find out more go to their page on the NYS TESOL website at http://nystesol.org/sig/TeachingEnglishInternationally.

____________________________________________________________________

New York State TESOL Active Around the State All Seasons

Winter and spring NYS TESOL events filled the calendar with professional development workshops, conferences, salons, and book clubs. Things are not cooling down for the summer. Upcoming happenings include:

June 4, 2011

New York City Region Event

Book Club:

The Spirit Catches You and You Fall Down: A Hmong Child, Her American Doctors, and the Collision of Two Cultures

by Anne Fadiman

Location: The International Center in New York

50 W. 23rd St., 7th Floor

New York, NY 10010

1:00 PM to 3:00 PM

Fee: Free to NYS TESOL Members/ Non-members: $10.00

Become a member today!

June 8, 2011
Capital Region Event
"Getting by in America: Immigrants, Refugees, and New American Citizens in the Capital Region"
Free Panel and Discussion
Location: Pine Hills Library, 517 Western Ave., Albany
5:30-7:30 p.m.

August 24, 2011
Teaching English Internationally SIG
"The Readjustments and Reverse Culture Shock Period for Returning EFL Teachers: A Salon"
Buffalo, NY



____________________________________________________________________

Big TESOL Wants You!

Sent from TESOL to affiliates on April 19, 2011
Help TESOL advocate for policies that matter to you! Join your colleagues from across the United States in Washington, DC on June 6-7 for TESOL Advocacy Day 2011. This year's all-new expanded program includes integrated advocacy and training activities that you'll use when you visit Capitol Hill. On the Hill, you'll talk to members of Congress and their staff to advocate for policies that benefit English language learners and teachers.

This year, TESOL advocates will discuss the reauthorization of the Elementary and Secondary Education Act (ESEA).
Registration is open to all TESOL members. For more information, including a schedule, please go to http://www.tesol.org/AdvocacyDay2011.
____________________________________________________________________
Idiom Theme for Fall 2011

The theme of the fall 2011 issue of Idiom is "Conversations." The deadline is August 15, 2011. Listening, speaking, reading, writing – this theme encompasses all skill areas and all age levels. Send your submission to idiom@nystesol.org.
Idiom - is the quarterly paper publication for members of NYS TESOL. You can be a part of an upcoming issue so why not submit an article for consideration? Sample Idiom articles can be read here: http://idiom.nystesol.org.

____________________________________________________________________
Dialogue – E-Newsletter of NYS TESOL
Please invite your non-member colleagues to join us (membership@nystesol.org).