Vol. 12, Issue 1, October 2011


Webbing In
Eugenia D. Coutavas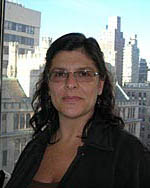 Debbie Coutavas
What is it?
The Podcast
Just do it! Nike's now iconic slogan may help inspire athletic success, but for me it had become more of an annoying mantra. Making a podcast with my students is something I had been thinking about for at least three years. I am pleased to report I finally succeeded.
A podcast is simply an audio file available on the Internet. (Check out commoncraft.com for a brief and clear explanation.) In previous columns I have given credit to ESL colleagues or workshops I have attended for inspiring my use of new technologies in the classroom. This one is no different. It was several years ago that a talk by a graduate student introduced me to podcasting. I thought then: I can easily do this using my ipod and laptop. Three years and one microphone later, I finally recorded my students and uploaded it to our class wiki.
How I Did It
In my advanced-level listening class, I recorded the students interviewing each other using a Belkin TuneTalk Stereo. This is a small attachable microphone designed for an iPod and costs around seventy dollars. Each interview was approximately 2 minutes long. I transferred each audio file from my iPod to iTunes on my MacBook and then saved them as mp3 files. They were originally wav files, but there were size restrictions to the wiki I was using, so I saved them as smaller mp3s. I did not edit the audio to improve sound quality – taking out pauses and verbal fillers and generally condensing the files so that they sounded more professional, although given more time I would have liked to have learned how to use Garageband or other editing software. I also did not make more than one recording, as I had originally anticipated. This was due to the short contact hours I had with students and other course work I was required to cover.
Creating a podcast was not part of the curriculum, but I wanted to pilot my idea, and the students were very receptive. Naturally they were shy at first to hear their voices during a playback session, but eventually became comfortable enough to ask to re-record themselves. It was a fresh way for them to listen to and critique themselves, and they also liked the idea of being able to send the link to their friends and family to hear.
Looking Ahead

One advantage of an ipod is its portability. It makes it easy to send students out in the field to do a survey on campus, interview other (non-ESL) students, canvas a neighborhood, or prepare an oral report on a particular landmark. Other ways podcasts can enhance students' listening and speaking experience include practicing discrete pronunciation exercises, voicemails, movie and restaurant reviews, role plays, or student conversations about … anything.
I did not manage to do more than one this time, but am so pleased that I took the first step. I just did it!


_____________________________________________________________

Eugenia "Debbie" Coutavas received a B.A. in History of Art with a minor in photography from the University of La Verne in Athens, Greece, and an M.A. in TESOL from Hunter College. In addition to teaching for more than ten years, Debbie was also the Web site coordinator for Hunter College's IELI Web site.

Please send your questions and responses to "Webbing In" at dialogue@nystesol.org.