Vol. 11, Issue 1, October 2010


Webbing In
Eugenia D. Coutavas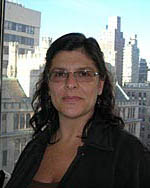 Debbie Coutavas
What is it?
Wikis
I've known about them for several years. It was almost two years ago that I went to a presentation at the Applied Linguistics Conference on using wikis in the ESL classroom. More recently I attended a professional development class at the New School titled Teaching with Technology. This class was what finally inspired me to create my own wiki. Now I'm very excitied about using wikis for my classes.
Why do I recommend it?
It's very simple.
I literally created my first wiki right in front of my class on the very first day. There are several sites that you can use to create a wiki; I chose Wikispaces. After registering – a two-minute process – you simply choose the Create a New Wiki link and get started. The toughest part for me was selecting a good name. I wanted it to include my class title but not be too long.
It's free.
I wouldn't recommend anything that wasn't!
It's interactive.
You can post audio and video segments and of course hypertext links.
My students loved it.
They appreciated being able to do their homework anytime they wanted. (As manager, you can track changes and times they were made. My students accessed our wiki at all hours of the night.) They also appreciated cross posting feedback and commenting on each other's entries. For example, on an assignment asking students to write a description of their country's flag, other students commented below each entry – in many cases asking for more detailed explanations about the symbolism of the flag described. I encouraged students to respond to their peers' entries, but did not mandate it; this was something that happened naturally given the format of a wiki.
How I have used it.
With great success I would say.
My first wiki was for a low-level writing class with 16 students, and the second one was for an intermediate level listening/speaking class. Wikis are basically Web sites that can be modified by a group of people. Essentially you add and save text/images, and the site changes and grows. As I learned the hard way, it's not a good idea to have your entire class do edits simultaneously. Some text may not be saved if everyone is working on the same page. That is why I created links (or what I call portfolios) for each student. This way each one worked in their own page, and if we worked on the wiki during our computer lab time, we didn't encounter any problems. Should any changes be lost, as manager you can easily retrieve it by reverting back to an older saved version of the entire site. My students were very proud of their 'writing portofolios'; many of them sent the link to our wiki to their families – a sort of "Look, I'm published" sort of moment.
As the semester unfolded, our wiki changed. It grew with all the work students added to it, evolved with all the links and materials I added, and blossomed with the addition of images, colored text and comments we all made. It was a wonderful process to be a part of, and I can't wait to do it again.
_____________________________________________________________

Eugenia "Debbie" Coutavas received a B.A. in History of Art with a minor in photography from the University of La Verne in Athens, Greece, and an M.A. in TESOL from Hunter College. In addition to teaching for more than ten years, Debbie was also the Web site coordinator for Hunter College's IELI Web site.

Please send your questions and responses to "Webbing In" at dialogue@nystesol.org.