Vol. 11, Issue 1, October 2010


Job Tips
Patti Juza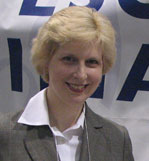 Patti Juza

Why Attending Conferences Can Help You Get a Job

Somewhere between the workshop on new strategies for teaching vocabulary and a visit to the publishers' exhibit, I bumped into a former grad school classmate of mine that I hadn't seen in over ten years. She had recently returned to the field after a stint on Wall Street, and was attending the NYS TESOL annual conference to update her classroom materials. We exchanged contact info, and after a month or so, I offered her a part-time teaching position when another instructor dropped out at the last moment. Six months later, she became the assistant director of our program.

We've all heard stories about employers trolling Facebook and LinkedIn in search of their next hire. But in our field, nothing beats the face-to-face networking that happens at conferences, where people present, discuss, and share their experience and expertise. Participating in conferences demonstrates a commitment to professional growth, a dedication to lifelong learning, and a motivation to improve performance. These are all qualities that principals, chairs, and directors look for when hiring, re-hiring, and promoting. Discovering a new approach to a classroom dilemma can inspire and excite, which in turn, can set an instructor apart from other candidates during an interview. And, for those in higher education on tenure track lines, presenting at conferences and publishing are absolute necessities for reappointment.

Attending conferences alone cannot get you a job, especially in this economic climate. In the case of my former classmate, it was her teaching and administrative skills that made her employable. But a chance encounter at a professional event shouldn't be underestimated.

The NYS TESOL 2010 Annual Conference will take place on November 5-6 in Albany, New York. For more information, please visit: http://nystesol.org/annualconf/.

Contact Patti Juza directly at patricia.juza@baruch.cuny.edu.

_______________________________________________________________
Patti Juza is the Director of Language and Test Preparation Programs at Baruch College's Division of Continuing and Professional Studies. She holds an M.A. in TESOL from Teachers College, Columbia University, where she also began her doctoral studies. She has taught teacher preparation, communication and ESL courses at corporate, college and secondary school levels, both in the U.S. and abroad. Additionally, Patti has taught in the M.A. TESOL Program at Hunter College. Recently, she co-authored a chapter, "Materials Used in the USA," in Brian Tomlinson's, English Language Learning Materials: A Critical Review.