Vol. 10, Issue 4, May 2010


Job Tips
Patti Juza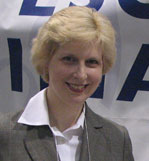 Patti Juza
How Mentoring Can Enhance Your TESOL Career
You've heard it countless times: Networking is critical to landing a job. But many of us are not only looking to make this month's rent or pay off our student loans. We're seeking a rich and fulfilling career. This is where mentoring comes in.
Mentors can help us with the big career questions. Should I get NYS K-12 Certification, even if I'm not sure that I want to teach children? What is the difference between teaching adult and high school students? Is it worth my while to go back to school for a doctorate? How do I deal with a new administrator who doesn't seem to appreciate the challenges of teaching a mixed-level, large class of English Language Learners? Drawing upon their experience and wisdom, mentors offer us advice and support. And while graduate schools and career centers sometimes provide the same services, mentors expose us to alternative perspectives. They also encourage us to try new things and take calculated risks. For example, one mentor I know has assisted at least six veteran adjuncts in making the decision to try out full-time teaching in the New York City Department of Education. Not only did she provide them with the relevant financial and benefit information, she discussed in detail the professional rewards of working with a literacy-based adult education program. One of the former adjuncts stated that she was grateful for her mentor's support. She now has a more stable position, which is challenging and fun.
Mentoring others offers career incentives as well. For those working in higher education, mentoring can enhance an application for tenure or promotion. Employers tend to look favorably upon applicants who have contributed to the field through volunteer opportunities, such as advising new teachers and providing assistance to peers. And for those who have retired from teaching, sharing knowledge and experience with a captive audience can prolong a satisfying career and respected legacy.
For information about the NYS TESOL mentor program or to volunteer as a mentor, please contact Patti Juza directly at patricia.juza@baruch.cuny.edu.
_______________________________________________________________
Patti Juza is the Director of Language and Test Preparation Programs at Baruch College's Division of Continuing and Professional Studies. She holds an M.A. in TESOL from Teachers College, Columbia University, where she also began her doctoral studies. She has taught teacher preparation, communication and ESL courses at corporate, college and secondary school levels, both in the U.S. and abroad. Additionally, Patti has taught in the M.A. TESOL Program at Hunter College. Recently, she co-authored a chapter, "Materials Used in the USA," in Brian Tomlinson's, English Language Learning Materials: A Critical Review.