Vol. 10, Issue 2, December 2009


Webbing In
Eugenia D. Coutavas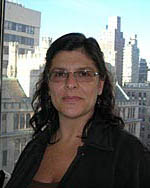 Debbie Courtavas
Course Management System - Moodle
In two of my recent classes I piloted the use of a couple of new technologies – new for me that is!
This past summer I used Pearson Longman's new online teaching tool called mynorthstarlab for an intermediate listening/speaking class. During the same semester, I used Moodle for an advanced conversation class. (I went on to use mynorthstarlab for one more class in the fall, which ended in October, and I continue to use Moodle today.) I purposely choose to do this in order to contrast the experience of using software designed by a publisher to compliment one of their titles, and using a less restrictive (and free) software like Moodle to enhance my own teaching materials.
What is it?
Moodle is a free open-source course management system similar to WebCT or Blackboard. Like Blackboard, Moodle offers an interactive environment where students can submit writing, check assignments, and post to a discussion board. Teachers can also do many things including upload lesson plans, links, and photos; assign tests, and keep track of students' work.
How I have used it.
I attended a tutorial on how to use Moodle many years ago. Despite this, I didn't find the interface familiar. That's probably my biggest complaint about it: it's not very pretty. You need to get used to a lot of little icons. But I dove in and have found that using it actually helps me focus as a teacher. You may choose from different formatting styles on how to present your classes; I choose the 'topics format' which displays each of my classes as a separate module. This makes the page rather long if you have 20 or more classes, but you can hide individual classes from students. Its features are too numerous to outline here, but there are many resources on YouTube to help get you started.
The feature I like most is the ability to add links to other sources at a moment's notice. For example, during a recent class discussion about the green movement, I added a link to an eco-friendly clothing line's website – the same company that was mentioned in our class reading and that we had just been talking about. For homework, I asked the students to visit the site and garner any further information about the company's mission relating to the green movement. In fact, adding links and uploading Word docs are basically what I did most. I like not having to distribute photocopies of websites or articles I find relating to our class themes, or displaying a website while students scramble to write down the URL. For me, this is the most efficient aspect of Moodle.
As with other on-line teaching software, Moodle just adds another layer to your face-to-face teaching time. I certainly do not use Moodle to its fullest potential, i.e., I know I have just scratched the surface, but it helps me scope and sequence my class with great ease. I look forward to learning about it – and using it -more in the future.
---
Eugenia "Debbie" Coutavas received a B.A. in History of Art with a minor in photography from the University of La Verne in Athens, Greece, and an M.A. in TESOL from Hunter College. In addition to teaching for more than ten years, Debbie was also the Web site coordinator for Hunter College's IELI Web site.
Please send your questions and responses to "Webbing In" at dialogue@nystesol.org.