Vol. 10, Issue 1, October 2009


Webbing In
Guest Columnist - Rachid Eladouni, CALL Coordinator, Pratt Institute
www.esoltechnology.com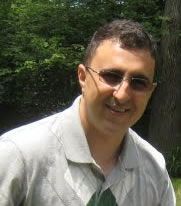 Rachid Eladouni
Electronic Portfolios
Electronic portfolios, also known as e-portfolios or Webfolios, are a compilation of text and multimedia resources used as tools for assessment, learning and reflection. Over the last few years, schools and universities worldwide have been experimenting with digital versions of the paper-based portfolio. While the medium is fundamentally different, the process and the objectives remain the same. Students use electronic portfolios to document their educational gains, showcase their accomplishments and reflect on their overall learning experiences. The result is a web URL displaying multiple artifacts that include drafts of essays, summaries, personal reflections in text, audio, video or a combination of these components. In addition, students have the option to create blogs, share photos, link to Youtube videos and upload their resumes.

This semester I am piloting an e-portfolio project with my CEP (Certificate of English Proficiency) class at the Pratt Institute. After months of deliberation and testing, the Pratt Institute opted for a free, open-source e-portfolio. As the Computer Assisted Language Learning Coordinator with the Intensive English Program, I was invited to test various e-portfolios (both commercial and open source) for efficiency and ease of use. We decided to go with Mahara.

Last week, Johel Brown, Educational Technologist at Pratt, visited my CEP class to help walk my students through the process of getting started. During the 30-minute introductory session, students designed a template for their e-portfolios using the intuitive Mahara drag-and-drop feature. Each student created a three-column page with information about their class, major, and an area to showcase their learning milestones. Each artifact in the e-portfolio includes a space for feedback and reflection. Students' initial reaction has been very positive. They seem very excited about the interesting possibilities Web 2.0 adds to the otherwise static portfolio. Of the 2.5 hours a week I meet with them, we spend 45 minutes of class time reviewing their e-portfolios.

Electronic portfolios are a great tool for students to report on their growth and help build a connection between theory and practice in a friendly and collaborative environment. Since they are web-based, e-portfolios take full advantage of Web 2.0 capabilities by adding multimedia and interactivity, which are very popular among young learners today. However, electronic portfolios have limitations that teachers and administrators should consider before implementing an e-portfolio program. Some opponents of e-portfolios dismiss their value as effective assessment tools, arguing that they lack standardization and are susceptible to bias. Others maintain that many teachers lack the technical expertise to successfully incorporate this new technology into their teaching methods. It is, therefore, important that all stakeholders be actively involved in the decision-making process when considering a switch to electronic portfolios. Teachers must understand both the technical and pedagogical aspects of electronic portfolios and they must be offered ample training opportunities prior to using them with their students.
Rachid Eladlouni is the CALL (Computer Assisted Language Learning) Coordinator at Pratt Institute, NY. He has taught academic ESL courses at Pace University, LaGuardia Community College, Baruch and Hunter College, and has given various presentations on academic writing and the use of technology in teaching ESL.
Featured Columnist Eugenia "Debbie" Coutavas will return to "Webbing In" in December 2009.
Please send your questions and responses to "Webbing In" at dialogue@nystesol.org.