Vol. 9, Issue 3, February 2009


Webbing In
Eugenia D. Coutavas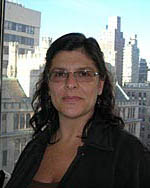 Eugenia D. Coutavas
Like many ESL teachers in higher education, I teach under the umbrella of continuing education departments. Because my students are not matriculated, they do not have access to the same technology as registered students. Online course management systems (CMS), such as Blackboard or Moodle, are not always accessible to continuing education students, but are now used by many universities and colleges. A CMS allows teachers to upload materials, have discussions, administer tests, and post links – among other things. Basically, it is an on-line environment designed to supplement traditional face-to-face teaching. But if you do not have permission to use your institution's CMS and really want to communicate with your entire class, what are you to do? You could just create an e-mail group, but an earnest discussion would clog up everyone's inbox. I say go "CMS lite."
What is it?
Google Groups.
Why do I recommend it?
It's free. It's easy. More importantly it exposes your students to a platform that they will most likely encounter once they enter college. The interface does not look the same as say Blackboard, but the idea of discussion threads, uploading documents such as homework assignments, responding to content given through outside links, is the same. I think this has applications for younger ESL students as well. As long as your students have access to the Internet, you could create a group and say begin a conversation about last week's homework assignment, post supplementary material, or assign extension exercises.
How I have used it.
I have used it for two classes in the last six months. I customize the look, upload a picture of myself, and then invite all the students on my roster by inputting all their e-mail addresses. They in turn reply, which allows them access, uploading a picture of themselves if they like. Students especially like that they can reply to a thread any time of day or night. Very convenient for busy students!

I look forward to sharing my technology/Web/Internet discoveries with you. Feel free to contact me with your your discoveries at Webbing In at: dialogue@nystesol.org.
Eugenia "Debbie" Coutavas received a B.A. in History of Art with a minor in photography from the University of La Verne in Athens, Greece, and an M.A. in TESOL from Hunter College. In addition to teaching for more than ten years, Debbie was also the Web site coordinator for Hunter College's IELI Web site.