Vol. 9, Issue 3, February 2009


On the Job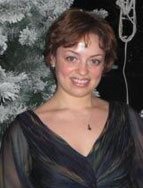 Elena Dokshansky-
Zelfond
Name: Elena Dokshansky-Zelfond
Number of years in the field: Five years as an ESL teacher (2004 to present), nine years as an English Language Learner (2000 to present), and five years as an English as a Foreign Language Learner (1995 to 2000)
First job in the field: ESL teacher
How did you get into the field?
My ESL journey started in 2000 when my family immigrated to the USA from Minsk, Belarus. I graduated from the Belorussian State University with a B. A. in Modern Foreign Languages right before we immigrated. Following my plan of becoming an ESL teacher, I received my M. Ed. in TESOL from SUNY Buffalo in 2004. While pursuing my master's degree, I worked as a research assistant at the Bilingual Education program. Currently, I am a Ph. D. candidate at SUNY Buffalo.
Current job position: Elementary / Middle School ESL Teacher
Current place of employment: North Tonawanda Middle school and Gilmore Elementary
Location: North Tonawanda, NY
Student Population: Our ESL students come from a variety of countries: Albania, Belarus, China, Kazakhstan, Latvia, Moldova, Puerto Rico, Russia, Ukraine, and Vietnam.
What course(s) do you teach?
The goal of our ESL program is to provide English Language Learners (ELLs) with meaningful language and content-based activities that will improve their listening, reading, writing, and speaking skills.
What do you like about your job?
The best reward is to see how ELLs acquire a new language and start applying it in a variety of academic and social situations.
What are the challenges you face?
Even though my job is definitely rewarding, it has a number of hidden icebergs and ongoing challenging situations. One such challenge is that some school personnel are unfamiliar with our ESL program, its goals, and an ESL teacher's responsibilities. Another challenge is meeting ESL standards and regulations without constant ESL/classroom teacher collaboration. However, one of the biggest constant concerns is teaching ESL students with special needs.
How has this job affected you professionally?
My experience has shown me that my students' success is not just the result of my efforts as their ESL teacher. It is (and should be) the combined efforts of the students, their classroom and ESL teachers, and their parents that help ELLs not only to acquire a new language, but also to adapt to new academic, cultural, and social situations.